No Corner Boys Here is the story of two families caught up in a swirl of political, economic, and social dramas not of their own making. The author, Jean Crozier, uncovers forgotten or little-known facts about these people who bore the brunt of global happenings. She captures the joy and the turmoil of their lives, and discovers the strength of the family web they wove.
Crozier's great-grandparents mined Britain's Severn Tunnel. They joined thousands of other English in a vast migration across the Bristol Channel to booming, coal-mining South Wales.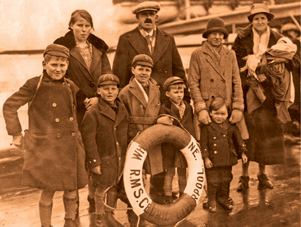 Forty years later, her grandparents also joined a migratory rush: they accepted assisted immigration to a prairie farm just in time to confront the 1930's drought and Depression. But their move ensured that none of their boys or girls loitered, looking for trouble, around the street corners.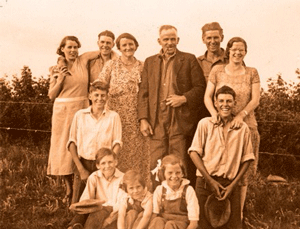 Instead, they became farmers, educators, and home-makers; they went into machining and the ministry and trapping. They married and had children, first-generation Canadians whose outlooks and values were lovingly shaped and who in turn guided succeeding generations. What starts out, then, as a story of one family's multi-generation odyssey becomes a tapestry of social history that belongs to all descendants of immigrants. The Thurston family shares its treasured storehouse of memories in No Corner Boys Here.
Available from the merchants listed on the right-hand side of the page, your local bookstore or wholesaler, or directly from the author — instructions below.
 Purchase your 2-volume set now!
Price: $ 59.95 CDN
Add: Shipping and handling:
$13.00 to Canadian addresses
$ 18.00 to continental USA addresses
$ 33.00 to addresses outside Canada and the continental USA
Thank you for your order. Questions? Comments? Contact the author directly at: info@NoCornerBoysHere.com